Su Casa Benefits From Birthday Fundraiser
Su Casa-Ending Domestic Violence was the recipient of a special donation from Suzanne Aguirre of $525.00 in celebration of her birthday.
Ms Aguirre took to Facebook and challenged her friends to make contributions to her charity of choice in honor of her birthday. "This year, I wanted to do something that would make an impact in the community," stated Aguirre. "I looked up Su Casa's website and did some research and determined that I wanted to get behind this organization." 
 Ms Aguirre set up her birthday fundraiser to start late in December and for two weeks her Facebook friends donated money in honor of her birthday and on January 10, 2018, she notified Su Casa that soon they would receive the $525.00 donation the her Facebook friends pledge to Su Casa to benefit their programs and services for victims of domestic violence and their families. 
"This is such a wonderful contribution and it is exciting to see someone take such initiative to make positive changes in our community," stated Anna Conti, Su Casa Executive Director. 
For more information on ways to donate to Su Casa, please contact Dean Lockwood, Director of Development, at dean@sucasadv.org or 562-421-3297.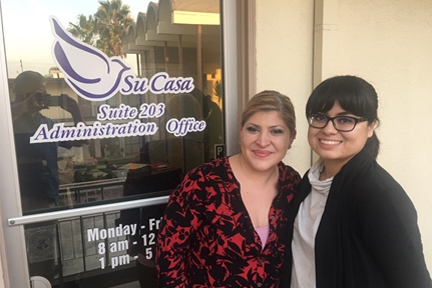 Anna Conti, Su Casa executive director, thanks Suzanne Aguirre for her contribution.